Life Style
The Oscars make L.A. tux businesses rich. ц
Olga Markosyan is very busy.
She works as a designer and tailor for "TUXEDOS By Mike," a shoe-box-sized shop on Sunset Boulevard in Hollywood. In 30 minutes, she helps a man named Paolo find a suit for a wedding, makes alterations to the outfit, takes phone calls, places a date on her large paper desk calendar and answers questions for the article you are reading.
From the outside, a handful of colorful suit jackets appear in the glass storefront. When you walk inside of the cramped store, you are met with an explosion of tuxedos and tuxedo paraphernalia. (Markosyan estimates there are about 2,000 suits in the store.) There are outfits hanging from the ceiling. On the L-shaped reception desk at the front are stacks of fedoras, a rack of suit pocket handkerchiefs and at least five pairs of shoes. The desk itself doubles as a display case for cufflinks.
Still, your eyes are drawn first to the walls, covered with suit jackets in seemingly every color and design you could think of: Glittery. Paisley. Sequins. Houndstooth. Velvet. Floral.
Markosyan, who came to L.A. from Armenia not too long ago, says she's outfitted everything from a Jennifer Lopez production to members of the Church of Scientology. But right now, she's preparing to take on dozens of people who will attend Sunday's Academy Awards. She says she helped around 100 customers for the event last year.
Working the shop solo can be difficult in normal circumstances. So, in preparation for the heavy workload the Oscars brings, she has uploaded a document to the store's Google Maps page warning customers not to come in for 11th-hour awards show purchases.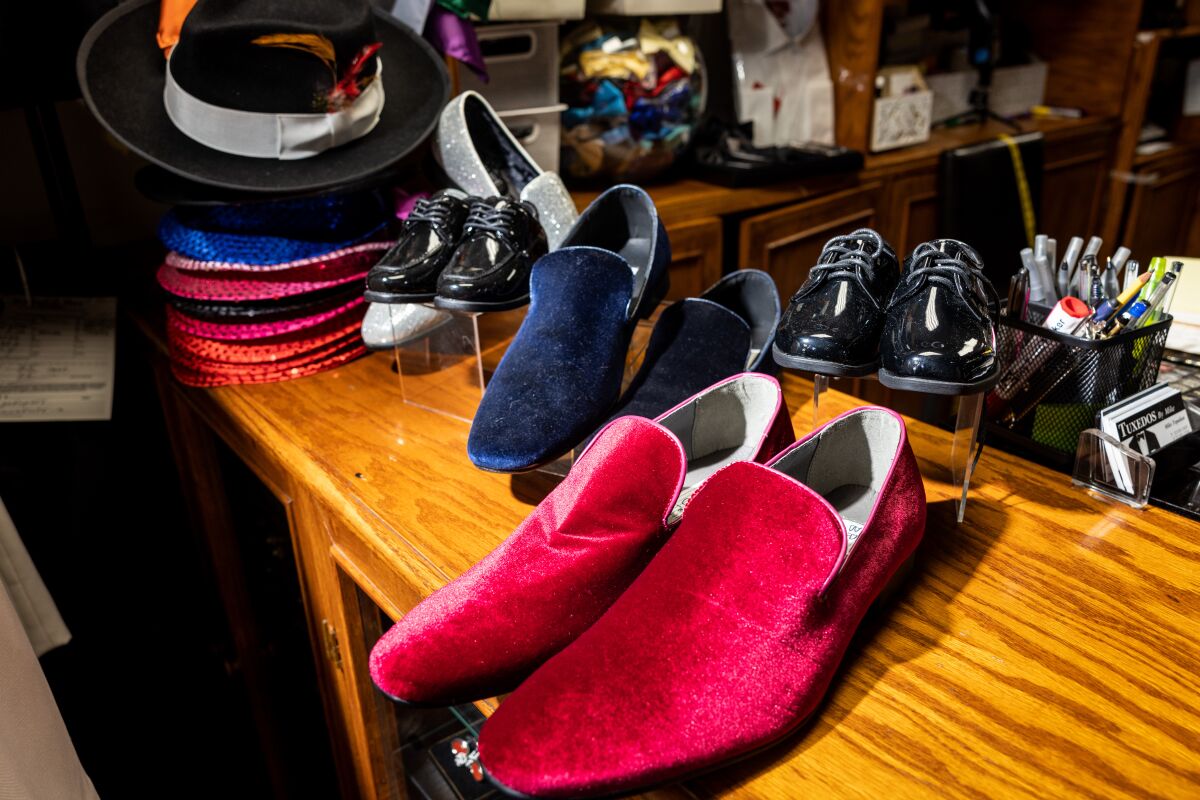 "Please don't wait for the last minute. There is no place to stand up," she says, explaining that a line usually forms down the street. "I wanna keep time for my customers. There is not enough time — for the weddings, for the parties — because of the Oscars."
While America's eyes are on the gowns, trophies and social media moments, local businesses eye the revenue. Every year, awards season injects a substantial amount of cash into Southern California's economy; a 2013 report by the Los Angeles Economic Development Corporation estimated the economic impact at $130 million. From January to March, big money is spent on hotels, limousines, restaurants and tourism. Among the beneficiaries are the shops that sell tuxedos to event attendees — and not everyone is seeking out luxury fashion designers. Local tuxedo vendors say that awards season drives huge sales on top of their usual income from weddings and proms, on the order of 20% to 30% of their annual revenue, according to tuxedo shops interviewed by The Times.
That doesn't mean the influx is easy to handle. Fittings, alterations and the staffing needed to pull it all off is a tricky business.
Some shops order suits months in advance to stock up. Macy's said in a statement to The Times that the company increases tuxedo inventory across the U.S. in December for New Year's events. However, in SoCal, the company keeps the tuxedo inventory higher through March. The grind begins in earnest when nominations are announced. Shops hire additional staff, expand their hours and stay late to prepare orders for the following day. Many shop owners keep measurements of regular clients so that they can provide them with well-fitting suits in a pinch.
During the years when awards shows had strict COVID-19 protocols like isolation and testing, attendees were better about making arrangements ahead of time. As those protocols have become more lax, the panicked purchases have returned.
Shop owners don't always know who is wearing their suits, as more prominent clients have teams that make the purchase for them. Zarik Kazanchian, owner of Kiraz Bridal & Tux in Glendale, says she prefers not to know so she doesn't feel the additional pressure of dressing a famous client.
She says men aren't the best at purchasing outfits in a timely manner: "It's just the way it is. We're used to that. It's not just for awards season; my grooms are the same way a lot of times. It's universal." Vrej Grigorian, owner of Gregory's Tux & Suits in North Hollywood, recalled that just ahead of the recent Screen Actors Guild Awards this year, "there was a guy that came in literally two hours before the awards who needed a tux."
Handling every request so quickly can be difficult, and not every person has the best attitude about the process. "They expect you to have it all right there and then," says Marielee Seda, a manager at Men's Wearhouse in Beverly Grove. "They can be impatient. Some of them, they do work with you and they understand that it's kind of their fault it's last minute, so they're patient and I appreciate that. But the ones that aren't kind of drive me crazy."
The tardiness of the orders can't be wholly attributed to shopper procrastination. Shop owners say many people find out they're attending events at the last second. Some shoppers are international travelers who may not have had the chance to pick up a suit before traveling to the U.S. Shop owners can't predict what each awards season will bring, but they can always bet on seeing stragglers just ahead of the show.
"Everybody wants their tuxedos, and we have like five or six people waiting. And we're trying to help everyone, but sometimes they get very impatient and nervous," says Abi Yescas, owner of Ryders Tuxedo Shop in the Miracle Mile neighborhood. "They have to be somewhere by 5. They're here trying to get a tuxedo at three."
Returns can be a deflating experience. People who come in on behalf of those set to attend the awards show make several purchases, only to return them after the event.
"They come in and they say, 'OK, he's not sure if he wants to wear a blue paisley jacket or a more conservative black jacket. So I've got to buy the blue jacket and the black jacket and then three different bow ties and two different shirts and everything,'" Grigorian says. "Then, the following Monday, they will come back and return all the stuff that they did not wear. And so your revenues are more like $700 rather than $3,000 that they walked out with."
He also says that many clients fail to return suits promptly. "There have been cases where the Academy Awards are in March and they haven't returned their suit until May," Grigorian says. Shop owners said people occasionally have returned tuxes in terrible shape, or with unexpected items in their pockets like money.
In the long run, the stress may be worth it: Awards season's impact on the tuxedo industry lasts long after the Oscar for best picture is handed out. It informs what looks stores will order for their stock locally and beyond, as people attending weddings and galas will want to replicate them.
"When you are in the fashion industry, awards season is something you look forward to," says Kazanchian. "Once the community sees what the celebrities are wearing, it helps with how to style our clients for their upcoming events. It's a forecast."
Pulling off awards season is also a community effort. It isn't uncommon for shops to refer clients to tailors and other stores who can deal with their additional needs. For instance, Yescas' store is conveniently located next to a dry cleaner that helps with pressing and alterations.
But the local effort also involves helping customers find self-esteem. "We have to work really hard for them to understand that they look good. They do look good, but they don't think they look good," Yescas says. "It's because you don't wear tuxedos every day. They are used to wearing just jeans, nothing formal." She adds: "I won't send them out to the Oscars if something doesn't look good."
Yescas says clients feel an additional pressure to look like they deserve to socialize with society's most beautiful people. Consequently, many clients leave the store in an attempt to find another look that delivers the confidence they seek. They usually end up returning to buy the outfit.
"After everything, they go, 'Oh, I looked great. Everybody was happy. My wife was happy,'" Yescas says. "And then they start to believe you."